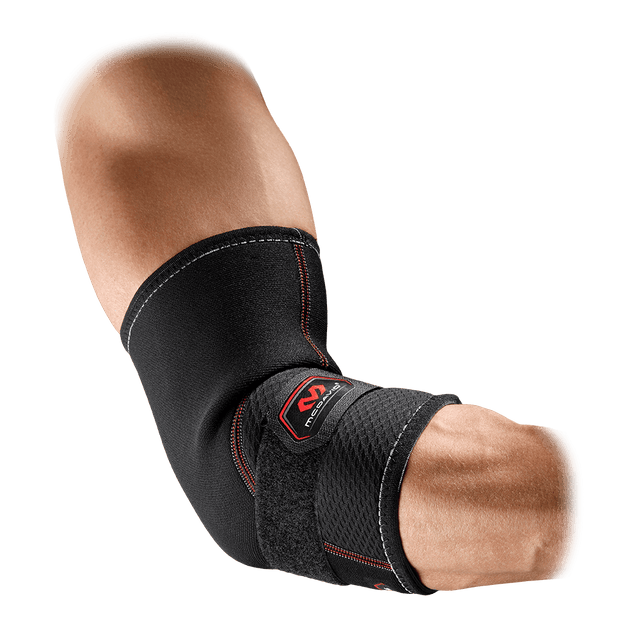 Compression Elbow Brace with Strap - Medium Support

The 485 elbow brace is used to relieve and prevent elbow pain. strengthen elbow stability Reduce elbow pain from sports that involve repetitive arm swings such as tennis, badminton, table tennis, squash, golf. It is a medium protective elbow support (LEVEL 2) with a sponge to support the injured point. can wear all types of sports Reduce impact on the elbow area.
special feature
Suitable for playing sports such as golf, tennis, badminton that require strength from the elbow to exercise. Relieve and prevent injuries Strengthen the stability of the elbow.
The strap can be adjusted freely. Add pressure and support to the string
Made from MCDAVID special technology materials to help maintain the temperature. level of blood flow tighten and support muscles reduces injuries make the exercise last longer and has high durability
Use the 5-needle method for a smoother and more durable seam. Does not cause irritation during use.
Can be worn on both left and right sides
World-class quality, confident that it is used by pro athletes around the world.
6 months product warranty
** All models of MCDAVID products that are not purchased from an official distributor of MCDAVID THAILAND are not covered by the quality warranty from Thailand service centers.
ให้ซัพพอร์ตระดับกลางสําหรับความไม่มั่นคงระดับน้อยถึงกลาง ป้องกันการบาดเจ็บซํ้า ป้องกันอาการเจ็บเรื้อรัง
ซัพพอร์ตระดับแอดวานซ์ | LEVEL 2